Blog
October 25, 2023
Superintendent's Report - November 2023
Image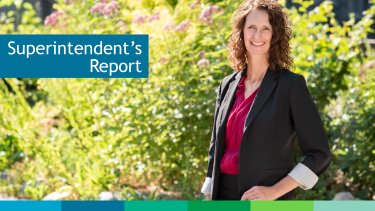 This month, I want to share my gratitude for some unexpected gifts we have received in our district and in our schools through the month of October. 
One gift took the form of national recognition for the professional accomplishments and generosity of spirit of one of our teachers, Sean Marechal, who is the recipient of a Prime Minister's Award for Excellence in Teaching. Sean has led the Valhalla Wilderness Program at W.E. Graham Community School in the Village of Slocan for the last 25 of its 27 years.
Hundreds of SD8 students have in turn received the gift of Sean's knowledge, encouragement, and skill at helping children appreciate nature, physical wellness, and the importance of giving back to one's community. I feel immense gratitude to Sean for sharing his skill and wisdom with his students, and for representing our district so well and with so much humility. Congratulations Mr. Marechal!
A second gift in SD8 also took the form of national recognition, only this time for our leadership team's engagement with students, staff, families, educational partners and our school communities to develop our 2024-2029 Strategic Plan. Our district received a 2023 Bravo! Award from the Canadian Association for Communicators in Education. I am not only grateful to those staff who worked such long hours to carry out our engagement process, including our Board of Education who attended every meeting, I am immensely grateful to our school communities for participating and contributing nearly 2000 ideas about how our district can ensure students thrive in warm and caring environment. 
And, a third gift we received over the past month is perhaps the most important of the three. We saw children in classrooms, in outdoor learning settings, on cross-country running courses, in school playgrounds and in the community learning, connecting, caring for one another, experiencing culture and Indigenous ways of learning and seeing, and moving closer to finding their life- and career paths. 
Thank you to each of you for teaching, supporting, and caring for children. 
Sincerely, 
Trish